Background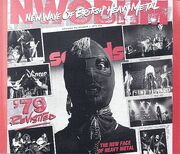 The New Wave of British Heavy Metal was a concert that attained legendary status in May, 1979 at London's Music Machine that featured Iron Maiden, Samson and Angel Witch, and has since been named as a music genre (usually shortened to NWOBHM) for the metal explosion in the British metal music scene since.
The product release of New Wave of British Heavy Metal '79 Revisited was a double album put together by Metallica's Lars Ulrich and managing editor (at the time) of British metal magazine Kerrang!'s Geoff Barton, which was a tribute to the exploding metal scene.
The album was released in 1990 through Metal Blade Records and Caroline Records in CD and cassette form.
Packaging
The booklet for the release is quite extensive, having a track and band member summary of all songs, many band photographs courtesy of Sounds magazine, and written entries from Ulrich and Barton each. Ulrich gives a brief summary of how the whole scene influenced him musically, while Barton tells of the initial meeting between him and Ulrich in late 1988 when Barton started a discussion of the 10 year anniversary of the show, which is when the project for the album started.
Tracklist
CD 1
"It's Electric" (Diamond Head)
"Eye of the Storm" (Sweet Savage)
"Motorcycle Man" (Saxon)
"Cheetah" (White Spirit)
"Don't Need Your Money" (Raven)
"White Lightning" (Paralex)
"Getcha Rocks Off" (Def Leppard)
"Set the Stage Alight" (Weapon)
"Vice Versa" (Samson)
"Fight With the Devil" (Hallow Ground)
"Demolition Boys" (Girlschool)
"Leaving Nadir" (Witchfynde)
"Treason" (A-II-Z) *
Witchfinder General" (Witchfinder General) *
Red Lights" (Black Axe) *
CD 2
"Sanctuary" (Iron Maiden)
"Back Street Woman" (Jaguar)
"Killers" (Tygers of Pan Tang)
"I'm No Fool" (Gaskin)
"Sledgehammer" (Sledgehammer)
"Angeldust" (Venom)
"Extermination Day" (Angel Witch)
"One of These Days" (Trespass)
"Death or Glory" (Holocaust)
"If I Were King" (Vardis)
"Blitzkrieg" (Blitzkrieg)
"Helpless" (Diamond Head)
""Captured City" (Praying Mantis) *
"Ambitions" (Dragster) *
""S. S. Giro" (Fist) *
Trivia
The album release was intended to be on the 10 year anniversary of the original gig, but with Ulrich being on tour with Metallica and Barton working on Kerrang!, it wasn't possible at the time.
The last six tracks on the second CD are bonus songs that were included in the CD release only.
Apparently not all tracks that were originally planned ended up on the release, due to an item in the liner notes from Barton stating "Where in tarnation is that track from Silverwing?!"