The following list is the complete setlist of songs featured in the game, including the year of release of the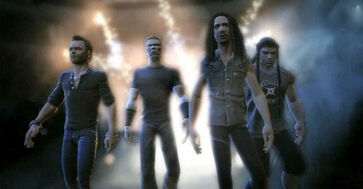 song according to the game, the song name, the artist, and the song's placement in the band Career mode. All songs are based on master recordings, in two cases, specifically re-recorded for the game. In the game's Career mode, songs are presented sequentially in tiers representing both real and fictional venues. To access each subsequent tier, the players must accumulate a number of stars from available songs; completing a song rewards the players with up to five stars based on their overall performance. Tiers are arranged in approximate difficulty, which varies between the single player instrument careers and the band career modes, with later tiers representing more difficult songs.
A These songs are exclusive to PlayStation 2 and Wii game disks. Available as downloadable content on Xbox 360 and PlayStation 3:B These songs are included on the game's demo on the Xbox 360:C These songs were re-recorded by the original artist for use in the game[4][5]
Although no new downloadable content has yet been announced for the game, PlayStation 3 or Xbox 360 players who have purchased playable tracks from Metallica's Death Magnetic album for Guitar Hero World Tour and Guitar Hero III: Legends of Rock through either the PlayStation Store or Xbox Live Marketplace will have these tracks incorporated into Guitar Hero: Metallica, with the exclusion of "All Nightmare Long" which can be played after completing 5 of the 9 tiers and also "Broken Beat & Scarred", "Cyanide" and "My Apocalypse", which already appears on the main setlist. These tracks become available in Career mode after completing the eighth tier, "The Ice Cave". These songs are played in "The Stone Nightclub" venue. The game supports new song creation and sharing through the "GHTunes" music service (for Playstation 3, Wii and Xbox 360 only) common to both World Tour and Metallica

Ad blocker interference detected!
Wikia is a free-to-use site that makes money from advertising. We have a modified experience for viewers using ad blockers

Wikia is not accessible if you've made further modifications. Remove the custom ad blocker rule(s) and the page will load as expected.